Visit any one of our centres at Bendemeer,
Changi Business Park, Siglap or Toa Payoh
for more information!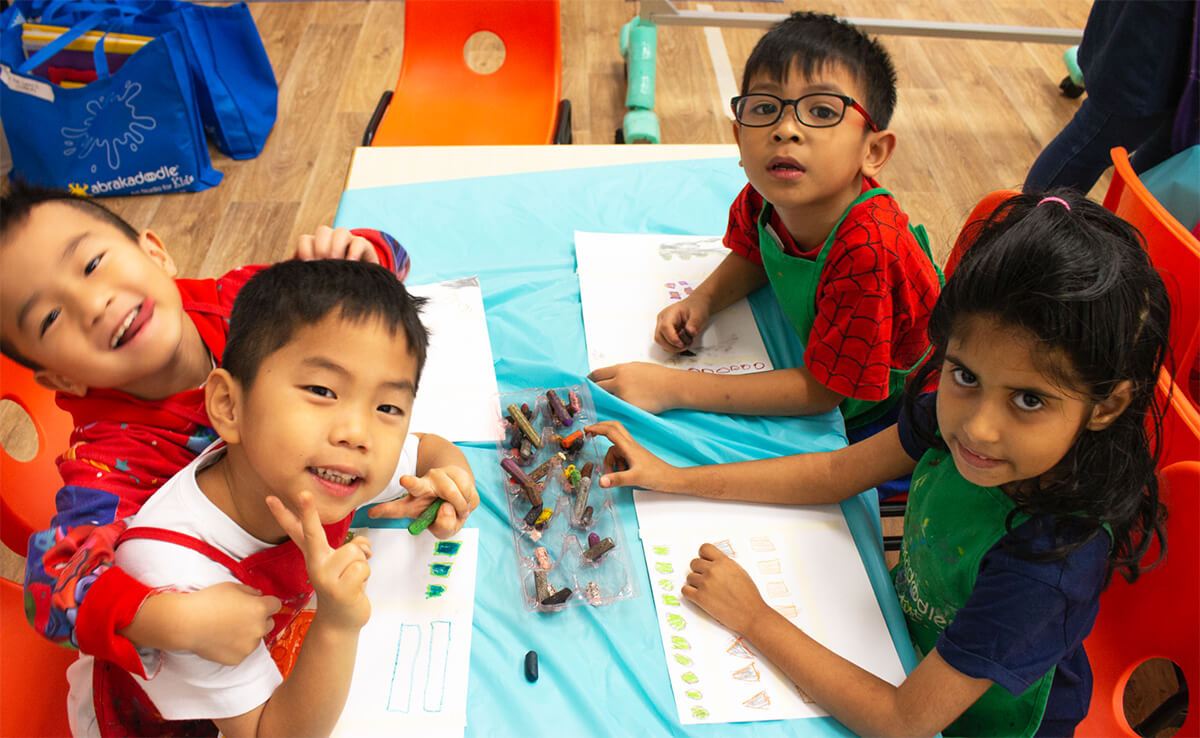 Abrakadoodle is a unique visual arts programs for children originating from the USA in 2002. In Abrakadoodle class, we involve children in what is known as Process Art. We help children to explore, create and develop their own original ideas. We provide children with the inspiration, materials, guidance, and tools to be creative. Each child creates original artwork which reflects his or her own personal interpretation and ideas. The program provides children with experiences with a wide variety of materials, techniques, styles and more. Children use specialty materials (such as bamboo brushes and embossing materials), learn about contemporary and master artists, explore art from around the world, work in 2D and 3D and more! A team of experienced artists and educators design the curriculum, focusing on providing a balanced program that sequentially builds both skills and knowledge.
1. Learning Art Techniques
Experimentation – color, form, line, shape, texture of materials such as coffee beans, molding compounds, oil pastels, slime etc. This encourages communication and cause-and-effect as they learn limitations of each. It also fosters a love of creativity.


Art Forms & Styles – they learn painting, sculpting, collage, paper art, pop art, the list is endless, this is to broaden their exposure and knowledge of the different styles available to challenge their creativity and act as an outlet for creative expression.


Art History Made Fun – kids learn about renowned Artists Picasso, Rembrandt, in a fun engaging environment and create their own interpretation, all which requires many facets of childhood development skills to come together to produce their own version and expression of Picasso or Rembrandt-style art.



Art Themes – Our themes change weekly that make for exciting little explorers.  All tailored for fun and excitement while children explore and create!"
The most important benefits of our visual arts program.  During our "Process Art" Program, children learn concept development (we have a weekly theme), problem solving (limitations /benefits of each art medium), critical thinking (make decisions based on the theme), fine motor development (hand-eye coordination) as well as numerous other skills that contribute to success in later years.
As our Visual Arts Classes encourages each individual child to create their own interpretation of the art piece, there is no replica, and no "wrong" in process-art.  Under our trained Abrakadoodle teachers' guidance, of carefully structure questions to help the child to produce their own interpretation, they are able to plan and rationalise logically, the cause and effect of which medium, the decisions required to undertake to create their art piece and be empowered in the process of this fun journey.