TwinkleKidz's curriculum approach provides for the holistic development of a child which encompasses knowledge, skills and dispositions.
Integrated learning experiences help children make meaningful connections across the 6 learning domains and enable them to understand how knowledge and skills are linked.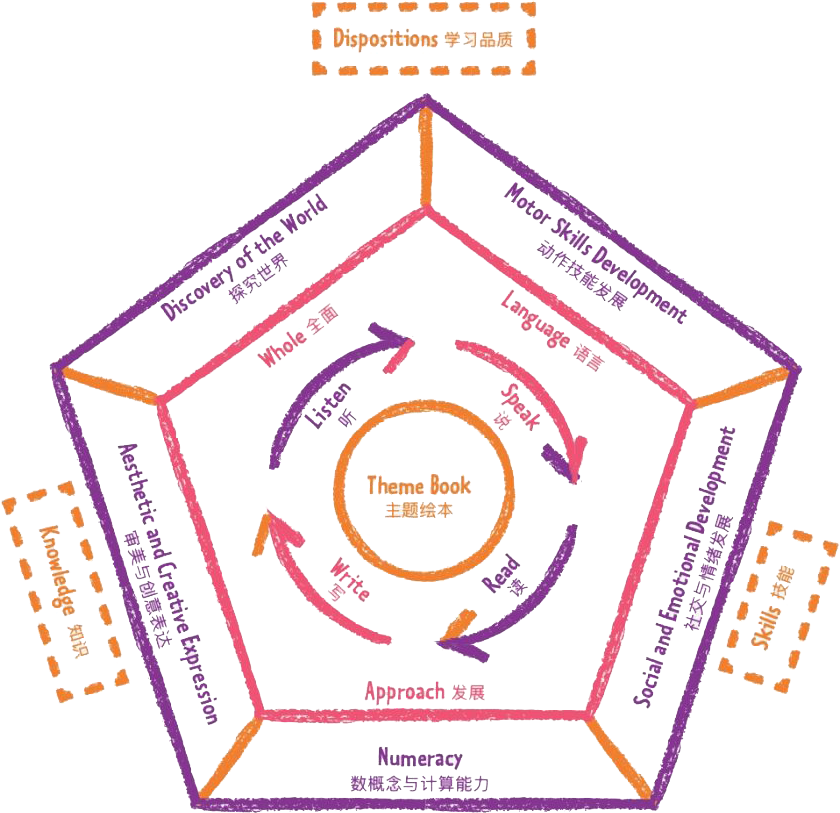 Twinklekidz believes that movement are building blocks that underpin daily living activities…. Children are imbibed with the natural urges to move, explore, experiment, discover, play and learn about their environment through their five senses. Movement activities contribute to the holistic development of the whole child, promoting mental alertness, creative thinking, problem solving and self-confidence.
Read more
Children are extremely interested and curious about the world around them…. At Twinklekidz, we sensitise children to the details in their immediate surroundings and provide the foundations for learning in Science, History and Geography. Children have opportunities to use their senses to develop their powers of observation and engage they're curiosity.
Read more
At Twinklekidz we contemplate language and literacy holistically, taking into… account the connections between Speaking and Listening, Reading and Writing, which extend across all learning domains in the curriculum.
The development of language and literacy skills is crucial to living and learning. We use language to communicate, to share and express feelings, to give and obtain information and to understand ideas and develop thoughts. Literacy focuses on developing each child's ability to understand and use language, both spoken and written, as an integral part of learning in all areas.
Read more
Children's social and emotional development motivates them to learn skills such… as the ability to communicate, connect with others, resolve conflict, self-regulate, show kindness and empathy to cope with challenges. Children need to develop and safely express a variety of emotional responses so that they can learn to adjust to new situations and achieve their desired outcomes. At Twinklekidz, we nurture the children to build resiliency, grit, strong relationships with their family and people around them though positive engagement.
Read more
Twinklekidz believes that aesthetic and creativity is closely linked to all aspects of… children's learning. Through our arts integration in the curriculum, we provide children with opportunities to explore and share their thoughts, ideas and feelings through a variety of art and design activities that inspires them to gain confidence, encourages the children's individuality, imagination and creativity.
Read more
Children acquire numeracy concepts by engaging in a wide variety of activities that… involve sorting, matching, comparing, classifying, and making patterns and sequences in different contexts. Children will begin to understand mathematical language and then use this language to talk about their projects.
Read more