TwinkleKidz provides infant care and preschool education with inter-disciplinary programmes for children up to Kindergarten 2. Our teaching and learning principles are relevant for developing competency in young children for the 21st century.
We have a team of teachers who are skilled and passionate about young children. We carry out developmentally appropriate practices and advocate a holistic curriculum with assessment that aims to equip children with essential knowledge, skills and dispositions.
Start your career with us at TwinkleKidz!
Visit any one of our centres at Bendemeer, Changi Business Park, Siglap or Toa Payoh for more information!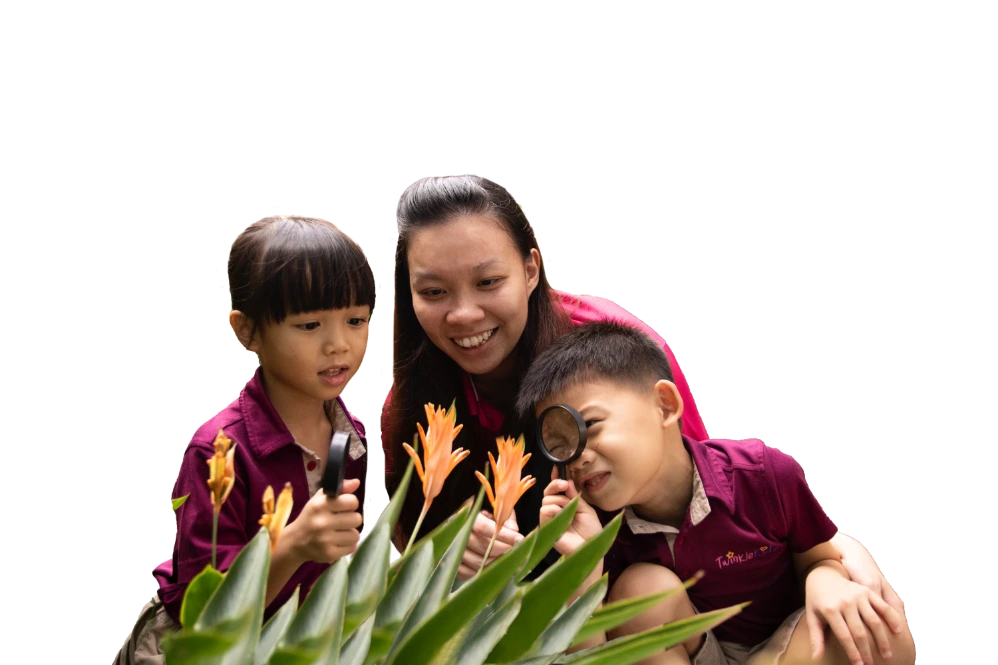 "As self-acknowledged 'overprotective' parents, we were careful and took our time in selecting TwinkleKidz at Bendemeer, and were so pleasantly impressed! From our first interaction with Ms. Ninna and her clear expectation setting, to the documentation and curriculum conversations with Mr. Koh, we were consistently impressed as parents. The time and the care that Ms Ninna and Teacher Fiza took to familiarise my son's routines, needs and expressions left me with absolutely no doubt that this would be my son's second home! The teachers greet us warmly each morning and provide very helpful feedback and guidance at pick up each evening. I would recommend TwinkleKidz to any parents looking for a loving, responsible, yet highly professional care centre!"
"Dear TwinkleKidz Toa Payoh, our child is Kayden Foo a.k.a 'Ah Boy', enrolled in PG class. We would like to show appreciation to the various staff from school admin to the teachers and principal. Thanks to the school for organising meaningful festive events and gatherings such as the CNY celebration for the kids and for us parents. We are happy to witness Ah Boy's continued progress at TwinkleKidz!"
"Alia is very fortunate to be a part of the caring and nurturing TwinkleKidz community. Her teachers are such dedicated and loving educators that it is no wonder how much she looks up to them. At home, Alia will say that she needs to pack her toys because Teacher Mel taught her to and is always singing songs taught to her by Lao-shi. Her teachers also take the time to tie her hair in such fanciful ways almost everyday. Thank you also to the other teachers like Teacher Julia, Teacher Nani, Teacher Bee, Teacher Debbie, Teacher Linda and Teacher Janice for the many things you do for Alia. I am grateful to all of you."
"Dear teachers, we would like to express our heartfelt gratitude for providing detailed insights on Fatiha's development and behaviour in school. This insight is useful in helping us ensure consistency at home. Keep up the great work! We would also like you to know that we appreciate the work that you do everyday. Thank you for being patient and kind towards Fatiha. Fatiha's glowing references of her teachers speak volumes of the positive impact and influence you have had on her. We look forward to many more wonderful years with TwinkleKidz!"
"Dear TwinkleKidz teachers, once again we understood the results of your effective work in a year at our meeting today. Thanks to your determination, our daughter started to speak English and Chinese in 10 months. This made us very happy and very touched during our time in Singapore, Bade learned a lot from you and enjoyed spending time with you very much. Every activity you prepared was really fun. We feel very lucky that we have chosen a school with valuable teachers like you. We would like to give special thanks to all of your teachers. We love you all!"
"During the past two years, Yiyuan has made huge progress in his development, especially when it comes to social behaviour. These progress could not have been accomplished without the efforts of his teachers, as well as the loving care from all the other staff of the school. TwinkleKidz is a small school, but it's lovely. Our family are grateful towards to school."